The FIT team were awarded the contract to partner with HfH in Nov 2019 and were tasked with creating a wholly bespoke customer service training solution that would fulfil the strategic objectives of the 'Great People' strand of their 'Winning Hands/Customer First' Transformation Programme.
This programme highlighted the need for wholesale culture change across the organisation, in order to enhance the customer experience; increase employee engagement and improve operational efficiency on the frontline.
By March 2020, preparations were well underway to fulfil stage 1 of FIT's S.H.A.P.E Model of Success, with the launch of the Screening process – including a range of staff evaluation surveys, TNA questionnaires, motivational psychometric tests and management focus groups.  Then, in March 2020, with the advent of Covid 19 and subsequent lockdown, our plans were significantly impacted – and back to the drawing board we all went!
Like many businesses at this time, we simply had to adapt to the emerging new way of working, in order to meet project objectives & timeframes and so, we essentially 'reverse-engineered' the plan to adopt a wholly blended learning approach to the programme, entitled 'Caring for Customers from the Inside Out'.  
We quickly switched tack to create and build a multi-sensory, online & offline simulated learner experience that would sit readily on HfH internal Learning Management System and adapted the programme content akin to FIT being 'live' in the training room &/or supporting learners at desk – and had to rely on internal resources to facilitate its delivery.  In essence, the Cohort Leaders would replace our FIT Trainers in the classroom and we would act as the support function to the Leads and key stakeholders throughout the 12  week pilot process.
Given the many constraints during lockdown (of which the physical restriction of not being able to work in-person with the delegates was the biggest) this revised way of delivering a pilot culture change programme was of course, not without its challenges!
At quarterly intervals (Modules 3/6/9/12) learners were invited to their personal 1:1 coaching session with a member of the FIT Coaching Team to really underpin the learning and support each delegate with their individual action plans.  Executive coaching sessions were also afforded to each Cohort Leader at these intervals in order to fully support their learning journey and provide hands-on management support to enable them to effectively lead their group through the learning experience.
HfH were keen to introduce a recognised level of certification to the programme to ensure a structured, practical and methodical approach to learning and enhance the learners sense of achievement, through accreditation via the CPD Standards Office http://www.cpduk.co.uk
We were delighted to achieve full accreditation on first submission and the Caring for Customers Programme was recognised as equivalent to 80 hours of Continuing Professional Development.  Our pilot cohort celebrated their success at an official ceremony in September 2021, having learned many lessons and made significant modifications to the programme, to ensure it had delivered on its Proof of Concept objective and was deemed fully FIT for purpose.
With lessons heeded and revisions implemented, our aim was to ensure an enhanced and even more uniquely tailored learning experience would follow for our client, who were about to embark on the transition of their ALMO status back into the Council, resulting in further challenges the business would face, as the integration of the two organisations and their differing cultures began.
And what a journey we've been on since the start of 2022….
Our Inaugural Cohort have showcased the CfC programme to the Council, which is now a blend of virtual; live; flip-classroom; video; audio; online and 1:1 training & coaching support, with 12 modules delivered in bitesize sessions over 16 weeks, concluding with a final written paper to fully test understanding and appraise 'stickability' and culminating in the achievement of 80 hours CPD accreditation.
At the Inaugural Ceremony of Accreditation in Sep 2022, Haringey's new Head of Housing & Placemaking, David Joyce said he was "really impressed and delighted" with the feedback from the Inaugural Cohort, whose hard work and commitment to the 'Caring for Customers – From the Inside Out' programme has been nothing short of exemplary! We are immensely proud of this group and of our own team, having achieved an NPS rating upon completion of the Inaugural programme of +90, against an industry average across the training industry of +71, and an average NPS score across the professional services industry of +43.
Our aim is now to ensure that London Borough of Haringey is positioned as the 'Purple Cow' in their field, helping them to show up & stand out as 'remarkable' in the service they provide; enjoy increased CX ratings, such as improvements in CSAT scores; tenant / customer reviews; increased employee engagement, and improved operational efficiency, ensuring a one-and-done approach to all customer interactions, so that the wider council's CX objectives can be realised.
This success story continues on into 2023 now, as Homes for Haringey is fully integrated back into Haringey Council, with plans underway to roll out this wholly bespoke, uniquely tailored CPD accredited CX training programme to the rest of the business, as a Best Practice approach to 'caring for customers from the inside out'. And Team FIT are extremely proud and privileged to continue to be our client's training provider of choice for the foreseeable future!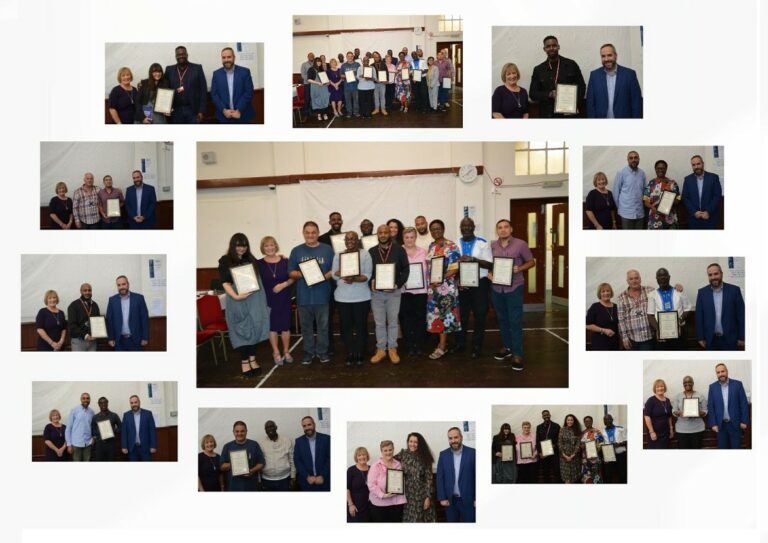 "The Caring for Customers programme is probably one of the most important bespoke training programmes we have ever put together at Homes for Haringey. The attention to detail, design and structuring that First Impression Training have put into this is amazing and will help to ensure that it brings about the culture change that we are seeking to achieve. Our customers and our staff deserve nothing less." 
Puneet Rajput
Director of Corporate Affairs