I was thrilled to be asked to contribute to a very important piece of writing recently, compiled by freelance journalist Jennifer Lane on behalf of CX insight gurus, Feefo.
We all know that Voice of Customer (VoC) feedback is a critical success factor in determining our CX standing in the marketplace, although Customer Satisfaction (CSAT) scores are pretty much old-hat now when it comes to measuring just how positive a voice our customers have about us.
Today, as competition runs rife and customer demands increase (rightly so), it's really important that we do everything we can to show up and stand out from others in our busy field – to become that Purple Cow, which Seth Godin talks about in his book of the same name.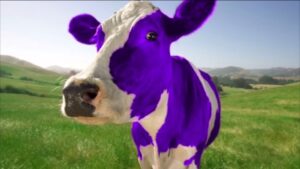 So, how do YOU ensure that YOU are that Purple Cow in YOUR field?
You go beyond measures of SATISFACTION, that's how!
You find ways to SURPRISE and DELIGHT your customers, so that you create brand loyal, raving fans.
A good place to start on this journey would be to have a clear understanding of the difference between CUSTOMER SATISFACTION and CUSTOMER DELIGHT….
What is Customer Satisfaction?
Customer satisfaction is about keeping customers happy by meeting their expectations, although given that customer needs and demands are constantly evolving, this is no mean feat. We're seeing evidence of more and more customer expectations, especially at purchasing &/or support points of the customer journey, including:
• Fast and accessible live chat support (ideally extended hours or 24/7)
• Omni-channel customer support, including speedy responses via email and social media
• The ability to purchase seamlessly from multiple channels
• Discount codes or a percentage off their purchase
• Free and fast shipping
Meeting some or all of these expectations is still a stretch for many organisations. However, meeting these (now basic) expectations creates satisfied, happy customers, although doesn't necessarily create loyal customers or brand advocates.
What is Customer Delight?
Customer Delight involves going much further than just meeting expectations. It's about surprising your customer, by going truly above and beyond the call of duty, to deliver something special – and often unexpected, in order to develop long-term trust and loyalty.
Creating a positive and memorable customer experience like this, enhances brand perception which will often lead to organic word-of-mouth referrals and recommendations. Often, customer delight can even lead to customers promoting you on their social media accounts and sharing their experience with you, by writing a testimonial or great review about you.
So, the ultimate goal of creating customer delight is doing or producing something that directly addresses a customer's wants, needs and interests. You want your customers to be so over the moon with their personalised and unique experience that they go out of their way to become advocates for your business.
Why is Customer Delight important?
When a business creates an experience that goes above and beyond for their customer, the customer is far more likely to be brand loyal, having established a connection or relationship with the business. Loyal customers have a range of benefits to your business, including:
• More organic referrals to friends, family, and colleagues
• Less customer turnover and more retention
• Lower marketing costs
• Customers who are willing to pay more for your great service
• Higher customer lifetime values (CLTV)
• More robust customer relationships – where they are less likely to leave after one inconvenience
• Customers who are far less likely to leave and purchase from your competitors
And as we all know, it costs businesses anything between 5-25 times MORE to acquire a new customer than to retain an existing one. As well as the perks listed above, keeping hold of your current customers gives you plenty of opportunities to upsell, cross-sell and work with partner brands too, so it really does PAY to DELIGHT your customers at every opportunity!
6 ways to drive Customer Delight
1. Listen to your customers
2. Start with the basics
3. Deliver something that exceeds expectations
4. Make it personal
5. Provide a consistent experience
6. Build knowledge hubs & customer communities
3 such organisations who are DELIGHTING THEIR CUSTOMERS in all these ways and are a really good example of following the ABCDE Rule (they're going Above & Beyond the Call of Duty Every…..which way!) are Pret A Manger, Lush and beauty brand Sephora.
You can read their impressive stories and access the full article from Feefo right here:
https://www.feefo.com/en/business/resources/tips/an-extensive-guide-to-a-customer-delight
Until next time – take care & keep FIT!
Best regs
Marie X